Workforce & Adult Education
Workforce COVID-19 information
The MRC workforce center is currently offering services remotely. This may include an appointment via phone, Zoom, or email – whatever method is best for you.
One-on-One workforce support includes job searching, resume writing, interview skills training, and employer resources.
We will also be working to offer career workshops via Zoom – check the website for details/announcements.
Unfortunately, the on-site computer lab will remain closed until further notice.
To make an appointment with workforce please contact Dawn at Dawn@mrcco.org or call 970.648.4122
We encourage anyone with general questions to email us at info@mrcco.org
---

Rock UR Resume workshop
What: resume workshop – creating new or revisiting an existing one
When: Tuesday, April 28, 10AM-11:30AM
Where: hosted by Mountain Resource Center on Zoom
How: email dawn@mrcco.org or call #970.648.4122 to sign up
---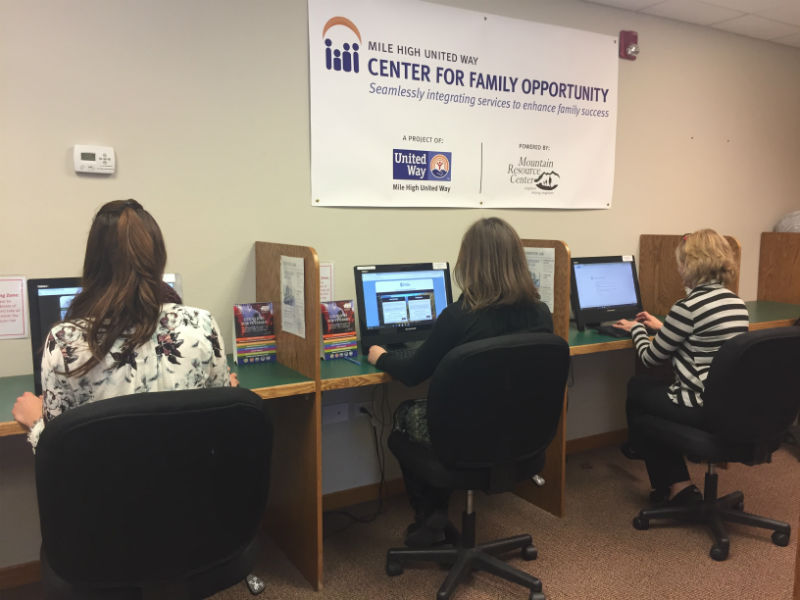 The Mile High United Way
Center for Family Opportunity
(powered by Mountain Resource Center) is a family-friendly place where individuals can access multiple services that will help them move toward economic success. Our Center provides "bundled" or integrated services that support and empower our clients through their job search process. Each participant meets with a Workforce Advocate to receive coordinated services tailored to their specific needs and goals. Mountain Resource Center's workforce program helps individuals from all backgrounds achieve their potential through workforce development and career coaching.
One-on-One Workforce Support:
Job Search Support
Resume Writing
Interview Skills Training
Career Workshops
Computer Classes
Open Computer Lab
Career Closet
Small Business Consultation
Job Fairs and Hiring Events
Employer Resources
**We partner with local employers to match job seekers with opportunities in the Mountain Community!