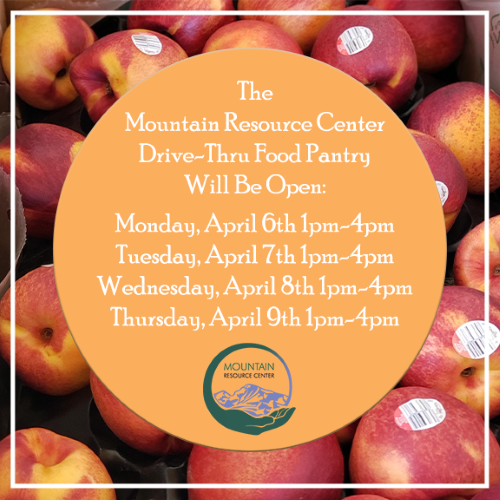 Drive-Thru Pantry
We have new pantry hours for the week of Monday, April 6th – Thursday, April 9th. Please share this information with friends and family!
If you're planning to visit the pantry this week, we have a couple of requests that will help make the drive-thu line safe and efficient. Please make sure that you have a free space in your vehicle for the food box before you arrive at MRC. We are asking that you stay in your vehicle during the whole visit. If you have pets in your vehicle, please make sure they are secure. It is also very helpful and appreciated if you can wipe and disinfect your door handle, trunk handle, etc before arriving to MRC. Thank you for your help!
We Are Here to Help
To better serve our clients, we are asking that you please email requests to Info@mrcco.org . We are still monitoring voicemail for those clients who are not able to email, but ask that you use the email option first. Thank you.
For additional COVID-19 resources, please follow our posts which are updated daily: https://www.mrcco.org/category/covid-19/

Next Weeks Drive-Thru Food Pantry:
Monday, April 6th – Thursday, April 9th between the hours of 1:00pm – 4:00pm.
This new schedule will allow Community Health staff to resupply, prepare, and also practice some self-care.
Thank you all for your flexibility. Please share this updated information with your friends and family.
Many Thanks,
MRC Staff
---
MRC Clients:
Effective March 16, Mountain Resource Center is suspending the majority of its in-person services. During our pantry hours, community members will be able to receive food through onsite food box delivery while they remain in their vehicles. Clients are also welcome to call us at 303-838-7552 to speak to an Advocate or Educator and we will assist you over the phone.
MRC has made the decision to temporarily suspend the acceptance of any physical donations. This is in an effort to reduce the contact that our staff would need to have with the general public. We are still currently able to order food and accept delivery from the Food Bank of the Rockies. We expect to see an increase in the need for food assistance from our clients due to loss of work or pay from closures. Our families will also require extra support due to the extended school closures.
Therefore, we need your financial support now more than ever.
If you are able to make a donation in these challenging and unprecedented times, you may do so online at https://mrcco.org/donate.
Gratefully,
The staff at Mountain Resource Center