Donate to Mountain Resource Center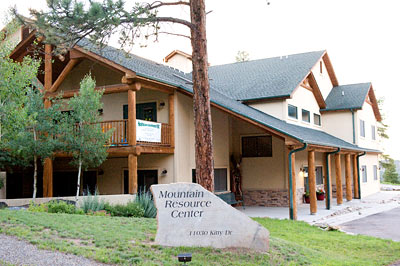 Mountain Resource Center is fortunate to have generous donors and business sponsors that support us with financial donations. Your donations, in combination with foundation and grant funding, allows us to continue to serve the needs of individuals and families in West Jefferson, Park, Clear Creek and Gilpin counties. Listed below are different ways you can contribute and make a considerable impact to those we serve in our organization.
With your help and support, in 2016 we were able to serve 1,586 people with 15,476  direct services of high quality, integrated health and human services that improved the lives of people in the communities we serve.
Our 'Integrated Services' allows clients to enter through any "door" of service and have access to all agency resources. We are seeing an increase in client needs due to escalating costs of utilities, rent and childcare.
Your time and talent is also valuable to us. If you would like to help in other ways, please visit our "Volunteer" page to learn more.
---
Financial Donation
Financial donations are appreciated; over $0.90 of every dollar donated goes directly to providing services to our clients. Please contact our Donor Relations Manager for more information or questions regarding any of the following donation/sponsorship opportunities: 303-838-7552 ext. 26
Financial donations can be accepted:
By Mail: PO Box 425, Conifer, CO 80433

In Person: 11030 Kitty Dr., Conifer, CO
Hours of Operation: Monday – Wednesday, 9 a.m – 5 a.m., Thursday 9 a.m.  – 7 p.m. (closed for lunch 1 p.m – 2 p.m.)

Online: Click the secure PayPal Donate button below:
---
Event Sponsorship
Mountain Resource Center has two signature fundraising events during the year, Mountain Derby Daze and the Mountain Bowls Project. In order to insure that our proceeds go towards our services, it is important to keep event expenses to a minimum. Our business sponsors make this possible and we are proud to promote them.
---
Workplace Giving
Many employers offer a Workplace Giving program to their employees, making it a convenient way to give. Contact your employer for more information about their Workplace Giving program.
---
Mountain Resource Center's Annual Sustaining Campaign
Each year, our Board of Directors launch an annual Sustaining Campaign. The campaign is both an opportunity to educate the community about our mission, and to help raise funds needed that are not designated to a particular program. The community's needs continue to grow as costs increase, and these 'General' funds help us cover all the needs of our clients. Your online tax-deductible financial donation is very much appreciated!
---
Colorado Gives.org
Colorado Gives is an online giving tool run by Community First Foundation, a Denver based nonprofit. Your tax-deductible donation comes directly to Mountain Resource Center.
Donate Now at:


The $1 Million Incentive Fund is a pool of dollars, provided by Community First Foundation and First Bank, to boost every donation!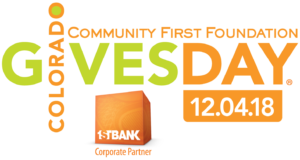 made through ColoradoGives.org on Colorado Gives Day. For example, if a nonprofit organization receives 10 percent of the total donations made on Colorado Gives Day, that same nonprofit receives 10 percent of the $1 Million Incentive Fund. It is one of the largest giving-day incentive funds in the country. The incentive fund increases the value of every donation made to their non-profits of choice.
---
Shop at AmazonSmile

Shop at AmazonSmile and Amazon will make a donation to Mountain Resource Center.
---
Donate a Car


Cars Helping Charities is an organization that accepts Car Donations and donates a portion of the sale proceeds to Mountain Resource Center.