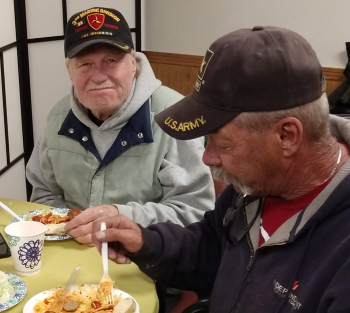 The Mountain Resource Center is dedicated to helping our veterans successfully reintegrate into society.
Dee* is a veteran, the owner of a local business, and an MRC client. Dee is witnessing a downturn in business, dealing with an impatient leasing agent, and wondering how she'll pay the rent on her home. During a meeting with MRC's Veterans Advocate, Dee told him she was suffering from terrible headaches. Because her Medicare eligibility was in limbo, Dee was avoiding a visit to the doctor.
Mountain Resource Center's Veterans Advocate recognized the severity of her headaches. He helped Dee complete VA enrollment forms and instructed her to go immediately to the VA hospital's emergency room. When Dee got to the VA, the doctor determined she was close to having a stroke. Thankfully she got the emergency help she needed. As a veteran who served honorably, her medical care was free.
Mountain Resource Center's annual Veterans Rendezvous Resource Fair offers free, essential health screenings that would have caught a dangerous medical issue like Dee's. The event would have been a well-timed checkup for many veterans who may be dealing with the challenges of COVID-19. So, with stories like Dee's, you can understand our disappointment at having to cancel this event this spring. However, we are committed to continuing our service to veterans at this critical time. 
We hope that you will consider a donation to support our work in addressing the urgent needs of our veterans and their families. Mountain Resource Center's services are now more important than ever. Together, we can ensure that the veterans in our community have hope, independence, and a better life.
*name changed to protect privacy