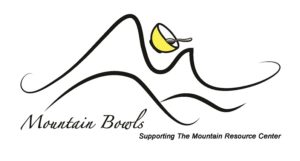 Click here to purchase tickets
Mountain Resource Center will host its 9th Annual Mountain Bowls Lunch or Dinner at Aspen Ridge Church on Tuesday, October 17, 2017. Long-time supporter, Lynn Westfall of RE/MAX Alliance is Honorary Chair of our 2017 Mountain Bowls events.
This popular fundraising event supports Mountain Resource Center's mission, "We strengthen our community with services that empower people."
Lunch is served from 11 a.m. to 2 p.m and dinner is served from 5 p.m. to 8 p.m.; both meal times include specialty soups prepared by local area chefs and caterers.
In addition to delicious soups, our guests will enjoy entertainment and a silent auction just in time for holiday shopping.
Ticket prices for Mountain Bowls events are: Family 4 Pack $75 (2 adults + 2 children), Adults $25, Child $15 (4-14), Children 3 & under Free. Tickets can be purchased online at www.mrcco.org.
Sponsorship opportunities which include all Bowls events are: $5000 – Title Sponsor, $2500 – Platinum Ladle Sponsors, $1000 – Gold Ladle Sponsors, $500 – Silver Ladle Sponsors and $250 – Bronze Ladle Sponsors. For sponsorship information, please contact Mel at 303-838-7552 x 26.